We're excited that you're here and thank you for taking the time to keep in touch with Siesky Law! We wanted to create a newsletter with the latest firm news and engaging articles, video and more on the latest law and community news. Please feel free to reach out to our firm with any questions or just to say hello, we're always happy to hear from you.
"Insuring" Your financial future: Choosing the Right Level of Car Insurance Coverage
Choosing the right amount of car insurance can be confusing, but there are a few things to consider that can help you determine the appropriate coverage level for your needs:
Minimum requirements: Each state has minimum requirements for car insurance, so you will need to ensure that you meet those requirements.
Coverage Options: Evaluate the coverage options offered by the insurance company. Consider liability coverage, collision coverage, comprehensive coverage, medical payments coverage, and uninsured/underinsured (UM/UIM) motorist coverage. Also, umbrella coverage should be considered.
Cost of the vehicle: The more expensive your car is, the more it will cost to repair or replace it. Therefore, if you have an expensive car, you should consider purchasing higher levels of coverage.
Personal financial situation: If you have significant assets, you may want to consider purchasing higher levels of liability and UM/UIM coverage to protect yourself in case of a lawsuit.
Driving habits: If you drive frequently or in areas with heavy traffic, you may be at a higher risk of being involved in an accident and should consider purchasing higher levels of coverage.
Deductibles: A higher deductible means a lower monthly premium, but it also means you'll have to pay more out of pocket in case of an accident. Consider how much you're willing and able to pay in the event of a claim.
Policy Limits: Examine the policy limits for each type of coverage. Ensure they are sufficient to protect your assets and cover potential expenses in case of an accident.
Ultimately, the amount of car insurance you purchase should provide you with enough coverage to protect yourself and your assets in the event of an accident. Something else to keep in mind is what will happen if you are involved in a motor vehicle accident and the at-fault party has the minimum coverage or is uninsured. Siesky Law Firm, PC. strongly encourages you to have as much uninsured (UM)/underinsured (UIM) coverage as you can afford to protect yourself if this were the case. Also, an umbrella policy offers additional financial protection over and above the underlying auto insurance
Attorney Selection: Wisest Decision for Your Legal Needs
When choosing an attorney, it's crucial to make a wise decision.
You need a law firm with highly competent team members, expert knowledge in their field, and a positive reputation. While flashy billboards and catchy jingles may grab your attention, looking beyond those surface-level marketing tactics is important.
What truly matters is finding an attorney who prioritizes effective communication and keeps you well-informed every step of the way. So, take your time in selecting a law firm that not only has the expertise you need but also values clear and consistent communication as a top priority.
It's crucial to seek recommendations from your trusted attorney friends and friends and family when searching for a law firm. Their firsthand experiences and referrals can provide valuable insights into a law firm's professionalism, expertise, and communication skills. Don't underestimate the power of personal recommendations, as they can help you make a more informed and reliable choice in selecting the right law firm for your needs.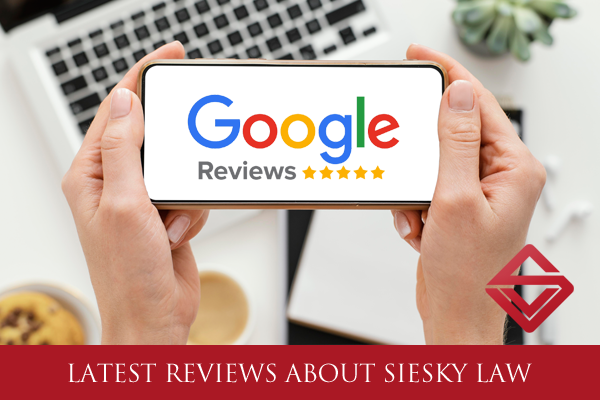 Thanks for the Google Review!
"I could not have asked for a better team to represent me and my family. Lane, Dan, and everyone I came into contact with at Siesky Law was wonderful. I was kept informed on the progress of my case, and the entire team was down-to-earth, respectful, and professional. It was very clear they had our best interests as their priority the whole way. If you need counsel that will have your back without backing down, this is the team for you!"
– Michelle R.
Honoring a Lifetime of Achievement: Tim Klingler
We consider ourselves incredibly fortunate to be surrounded by remarkable individuals within our circle of influence and support. Their brilliance, loyalty, and exceptional talents have greatly impacted our lives. As a way to honor them, we have created the Siesky Law Firm Lifetime Achievement Award.
We want to express our deepest gratitude and pay tribute to an extraordinary man who has devoted years of service, unwavering dedication, and loyalty to the practice of law and our community. Tim Klingler is our July Lifetime Achievement Award recipient, and we're happy to acknowledge his outstanding contributions.